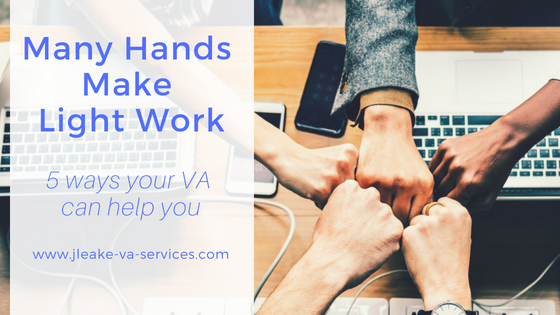 5 Ways a VA can help you and your business.
Are you constantly wishing there were more hours in the day? Do you have lots of tasks that need doing but you don't know where you'll find the time to do them all by yourself? Would you like to clone yourself so you've got another pair of hands?
Well, don't panic! I'm pretty sure this is familiar to most business owners, struggling to progress their own business while getting the admin done, planning and expanding their client base. You know what you should be doing, but finding the time to do it is another thing entirely.
Hiring a Virtual Assistant could be just the answer you're looking for. The flexibility of being able to hire a VA, short or long term, to assist with or manage any task that you can't quite give the attention it deserves, is a great solution and shares the load.
But what can a Virtual Assistant help you with? The list is endless and you could start by thinking about what tasks are time-consuming but vital and also, the jobs you hate doing yourself!
Here are my top 5 time-consuming but important jobs that businesses often struggle to find the time to do well.
Email management – So you don't need a full-time member of staff solely employed to manage your emails but you dread opening your inbox, responding seems to take forever and gets in the way of your other tasks. Having a Virtual Assistant handle your emails just makes sense. VA's can also get your inbox organised, with rules, alerts and task management so you never have the fear of opening Outlook again…
Social media management – Content creation, scheduling and being 'in the moment' with social media can sometimes be difficult, especially if there's lots going on elsewhere. A VA can effectively manage your social media channels for you, freeing up your time to follow up leads and network in person.
Content creation for blogs – Everyone has the best of intentions with blogging but it very often falls by the way-side if things get busy elsewhere. It's a really useful marketing tool though and could open doors for you with new clients and generate conversation – it's definitely something your VA could help you with! They'll be able to think of new content ideas, gather information for you to get you started, proof-read and schedule your blog across social media.
Marketing – Putting together a newsletter, designing flyers, distributing press releases and ensuring your website is up to date are all marketing tasks that can be done by a VA. It's an extremely cost-effective solution to ensure that your brand is visible and current.
Online research – Knowledge is power, but trawling through copious amounts of websites to find the information you're after can be draining. A VA can find information on a topic, product or event through online research, helping to free your time for other pressing tasks.
Whatever tasks you decide, when you outsource to a VA it's important to give clear instructions to make sure you're both on the same page. You could always start with a test project, which is a great way to get to know your VA before making any long-term commitment.
Working with a trustworthy VA could be just the cost-effective solution you need, freeing up more of your time to do what you originally set out to do and grow your own business while doing what you love.
Sound like a match made in heaven? Call me on 079 5805 0856 for a non-obligatory chat. Here's to working together to get the job done.
#collaboration #outsourcing #manyhandsmakelightwork #virtualassistant