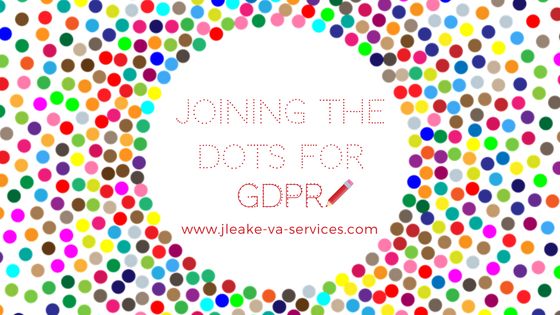 My GDPR Journey So Far…
With the 25th May looming ever closer, I thought this month I would reflect on my journey, so far with GDPR…
It all started back in September 2017 at a Warwickshire VA Network (WVAN) meeting. We were discussing GDPR and who would take a lead on this important but 'long way off' subject. Those four little letters didn't scare me, so I inadvertently suggested that I may be the best person for the job. Since then, the upcoming changes to data regulation have been a big part of my life, and while sometimes I do wish I'd kept my mouth shut, most of the time I'm really happy to be able to impart knowledge to businesses and charities and really help them shine some light on the grey areas surrounding GDPR.
Joining the Dots Together
I started out on my quest for GDPR knowledge by reading information on the ICO website and anything else I could find via good old Google; deciphering the useful from the 'panic' has occasionally been difficult! Then, in October, I delivered the first of two workshops for my fellow Virtual Assistants. During the workshops, in true WVAN collaborative style, we shared knowledge on the various topics within the GDPR and worked together to create data sheets and a library of information.
Talking the ins and outs of GDPR and getting expert advice from others has been key all along and another of the groups I belong to is the wonderful KoffeeKlatch GDPR group, run by the inimitable Annabel Kaye. We've put our GDPR 'ducks in a row' by working together on our audit sheets and KoffeeKlatch have created some super fun explainer videos and photos along with various themed groups for clients. I also joined Susanne Dibble's data protection lawyer's Facebook group which has proved a valuable resource and is full of great information about everything to do with GDPR. Susanne committed to making a video a day about various aspects of GDPR and there is a library full of expert information.
To date, I have delivered 8 talks on GDPR and 4 workshops, with another planned for next week. I have also shared on my Facebook Business page and on LinkedIn various tips and information about GDPR. Right now, I am working with 8 clients supporting them on their GDPR journey.
Am I an expert?
When you think about it, the past 6 months have included a lot of talking about GDPR and I definitely seem to live and breathe it right now! I don't consider myself an expert in the topic though, despite the wealth of knowledge I've gained on the subject. What I think is that you need to apply a great deal of common sense to what you hear and read, making sure you put it into context for your business and apply the appropriate and proportionate protection for the personal data under your control. We need to know what data we have, where it is and who we're sharing it with.
I'm wondering how you're getting on with your GDPR journey? Will you be ready for the 25th of May? If you're struggling to think how you're going to cope with the new regulations, please don't hesitate to contact me now on 079580 50856 or email info@jleake-va-services.com. There are only a couple of weeks left for you to make sure your business is ready and that GDPR doesn't turn out to be GDPaRgh for you and your staff.
#GDPR #learningcurve #regulations #collaboration