Does this sound like you?
You spend more time writing your to-do list than you do ticking things off?
There just isn't enough time in the day, so you go to bed each evening with your head swimming and already feeling like you'll start the day on the back foot.
Well, I hate to tell you – this sounds just like a 'list' and not a 'To-Do' List. A list is just a series of things you need to achieve and can be overwhelming when you cast your eyes on it.  A To-Do list takes those items and breaks them down into manageable and achievable steps so that you can really see how much you have to do and allows you to plan your time.
Now read on if you want to learn how to create a To-Do List that will actually help you organise your day and feel more in control of your time. Reduce the overwhelm of how much you've got to do and give you a sense of accomplishment at the end of the day and a plan for what still needs to be done.
Or skip straight to sign up for my free 15-minute training on creating a great to-do list!
What makes up an effective to-do list
An effective to-do list allows you to be productive and avoid procrastination.
Your To-Do list should have manageable and meaningful tasks. Ideally, your most important tasks, those that perhaps have a deadline, should be at the top and the least important to the bottom allowing you to see what needs taking care of first but at the same time having everything together in one place so that nothing gets missed.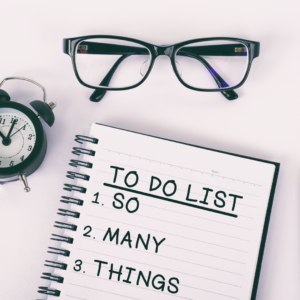 A good To-Do List has the following elements:
Write a short title for each item
Break down each item into achievable tasks
Plan and estimate how long it will take you for each task
Give your tasks deadlines
Build in time for delays
The Importance of Planning
When you don't take time to plan your tasks, you end up defeating yourself before you've even started. There's no way you are going to get through that list as you are not truly aware of what each task entails to complete and which are the important ones to do first. 
As you get better at planning, you will be able to keep your tasks meaningful but brief so that at a glance, you can see what needs to be done. But to get you started, expand the details.
By breaking down the tasks into smaller achievable chunks, you will be able to see clearly how much needs to be done for each to-do list item, and you can realistically see how long the task is going to take you, which in turn allows you to plan your time, day, week effectively and not cram too much in. How much time to assign a task was something I used to struggle with, but by using the strategies I'm telling you about in my free 15-minute How to Create an Effective and Productive To-Do list, I have learnt at a glance now how long I need to assign to certain tasks.
And remember to *'Eat that Frog' and do the most important tasks first, don't put those off by doing the smaller/quicker tasks first. Whether you are an early bird or a night owl, we all have an optimum time when we are at our best, and if we have identified those big tasks, we know when we should be tackling them. *Brian Tracy
At the end of the day, make sure you tick off all those tasks and celebrate what you have achieved!  Then before you finish for the day, review and revise your to-do list ready for tomorrow.  Write yourself a fresh list and move any remaining tasks over and update any Apps you use to help you with the process.
Helpful to-do Apps
Of course, there is a multitude of apps out there to help you.  What I've found works best for me and the way I work is that I generally write on paper as I do love a bit of stationery, an overview to-do list for the day with a maximum of three items that I want to achieve that day and call me crazy, but I do love the satisfaction of putting a big tick through an item on my list.  I use that To-Do list alongside my favourite app Trello, which is especially helpful when you have recurring tasks and deadlines; it makes sense to use a project management app that you can easily edit.  
I'm a visual person, and it appeals to me to see the progress as I move cards about I know I can jot down anything that comes into my head, and it won't get lost or forgotten. With Trello, you can break down the tasks and add times, and it works well when working with my clients too.  For example, using Trello allows me to create a Done-List and move completed tasks on this list which appeals to my sense of organisation.  And, I can duplicate any of the cards when I find I'm doing a recurring task and don't have to start all over again! I can also assign tasks to members of my or my client's team.
The thing with Apps is you need to try out a few to see what, if any, works for you and the way you like to work.  Here are a few you could test.  
But, if Apps are not for you, there is absolutely nothing wrong with a piece of paper, excel, word or google doc. At the end of the day, it's got to be whatever suits you and your brain and is going to help you get your job done.
So remember, just having a regular simple To-Do List will never be enough for you. To be effective and productive, you need something more to help you stay on top of things and be organised in your business.
If you would like to learn more about how to create a To-Do List that works, that will actually help you make progress and stay on top of things so you can feel more in control of your business, why not sign up for my free 15-minute How to Create an Effective and Productive To-Do list