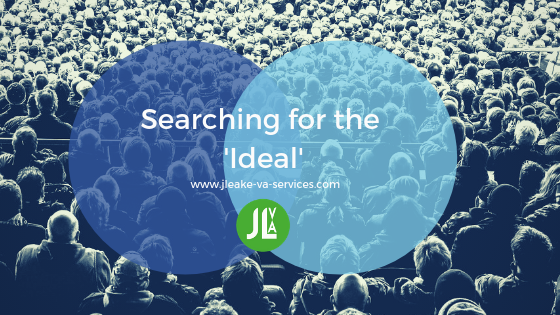 "Market to everyone, reach no one"
We all know that if we're marketing to everyone, we'll end up attracting no-one, so it's not rocket science that we should take time to identify who our ideal customer is and make sure we're marketing directly to them.
It's an ongoing process, but here's how we can work out who your 'ideal' customers are in 5 steps;
#1: Ensure your brand has a strong identity and obvious values
I can't stress how important this is so make sure you do it first! You can't hope to gain your ideal customer if your brand needs lots of work. Customers won't be impressed and will be put off from doing business with you!
#2: Take a look at your current clients
Identify the ideal!
What do you know about your current clients?
Why did they come to you?
Where did you find them or how did they find you?
What groups do they belong to?
Do they use any social media platforms?
What makes them ideal for your business?
Not only will this help to find trends in your customer base and help you to identify the demographics of your customers, but it could give you a clue as to which marketing methods will be the most effective.
#3: Look at your 'non' ideal clients
What makes them not ideal for you?
Are they only spending small amounts infrequently?
Do they make lots of enquiries but not actually convert to sales?
Are they totally the wrong demographic for your business aims?
Just to note – this could be anything really that makes them 'non' ideal for you – this will vary from business to business so be careful not to discount any potential customer because you feel they aren't 'ideal', just don't spend lots of money marketing to them!
#4: Focus your attention
Now you've worked out who your ideal customers are and identified the type of audience you are looking to attract, then make sure you focus and direct your marketing to reach out to these people in particular.
#5: Review
Don't get caught on autopilot! I suggest reviewing and identifying your 'ideal' audience at least once a year to make sure you are still marketing to the right people. Your business may have changed, or your audience and their needs and views might have changed, so tweak things to make sure you're still getting the return on your marketing outgoings.
If you need help discovering your ideal client, you can always give me a call and I will be happy to work with you. You can contact me by email at info@jleake-va-services.com or call me on 079580 50856.
#audience #marketing #ideal