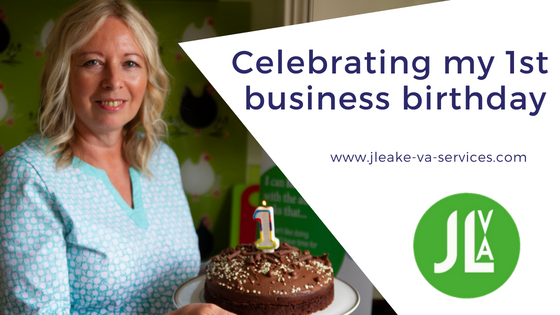 It's my 1st Business Birthday.
Well, where has that year gone? It's definitely been a rollercoaster of a ride but I want to give a big shout out and thank you to my amazing family and friends for their belief in me. I am so grateful for your support and encouragement and I wish I could share a slice of my cake with you all!
The same goes for my wonderful clients. We've achieved so much together already and I really appreciate the great feedback and reviews you've given me. I'm really looking forward to many more years of working with amazing people to achieve big things for their businesses.
Throughout my first year, I have been really lucky to meet some inspirational VA's who I have learned a lot from. Working collaboratively alongside them and receiving great advice and support from the network has been fantastic and I can't thank them enough.
Being self-employed and becoming my own boss was certainly not on my New Year's resolutions list for 2017. It's not always been easy and I definitely wouldn't have thought that GDPRaaargh would have played such a big part of my 1st business year! But, despite the huge learning curve, a lot of determination and belief ensures that I am proud of what I have achieved in my first year!
3 main things I have learnt
I wanted to let you know the 3 main things I've learnt so that if you're thinking of starting your own business you've got a little insight:
You don't have to do it alone. I was able to take advantage of some great FREE support offered to startups from the Coventry and Warwickshire Chamber of Commerce and the CWHub. There's plenty of fantastic resources available when you start looking. Local networking groups have helped me to meet potential clients and get my business out there.
The value of outsourcing. Hiring an expert for a task that you can't do or don't want to do is not only beneficial for your own time but brings in the value of an expert, so the job is done properly. As a VA, I have to wear many hats and I've found that it's always a good idea to practice what I preach and get help where needed! Believe it or not, knowing your worth saves you money. Yes, you heard me right, by paying someone else, you are freeing your own time 'to focus on what matters', saving you time, resource and adding value to your business.
Learning new skills. You're never too old to learn and with the constant development of new technology, apps, changing regulations and updated processes, if you snooze you lose. It's inevitable that sometimes you do need to pay to keep your knowledge current, but it isn't always the case, so do your homework, read up on the training, take a look at what will be covered, research the expertise of the trainer and read reviews of previous development courses to make an informed decision.
How many times do you hear "I wish I'd done it sooner"? After a year running my own business, I can definitely join that chorus! It's onwards and upwards for me and J Leake VA Services – but first, time for some cake…
#virtualassistant #nuneaton #administration #outsourcing #support #freelance #smallbiz #va