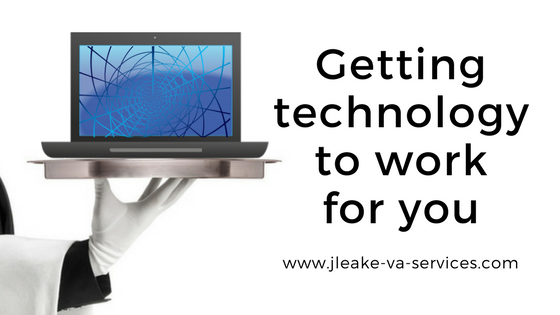 The Benefits of Technology
I understand – you're a stationery lover like me and enjoy browsing Paperchase for a pretty notebook, jotting down little ideas on the go and doodling as you please. Absolutely fair enough! There are some situations where a piece of paper does the job and if it works, then why change?
But, it could be that technology might just help you out a little more than that piece of paper which has been ripped out of your notebook and is now underneath many similar pieces of paper somewhere in your office. Technology can help you to prioritise and schedule – it allows me to make sure I know what needs doing and when and allows me to set aside times to be with my family and friends and have fun, and not just work!
I'd urge you to hear me out on this one! There is some technology out there that aids your working life. It's been developed to make sure tasks are easier and productivity is increased – worth a go, then? I'll try anything once…
Tried & Tested Technology
There are so many different tools out there to choose from and to help me in my business I use a variety of different ones. Here are 5 of my favourite technology aids:
For project and workload management I use Trello, giving me a great visual overview of what I am working on
For Social Media post scheduling I like Hootsuite; it enables me to proactively arrange content and allows me to access all of my social media channels in one place
I love CANVA as it enables me to create fun and professional graphics easily and download them in a variety of formats
Pocket is another of my favourites; it is a great app for saving articles or videos so I can read them when I have time
I use MailChimp for my email marketing and campaigns; it's easy to use and they are currently working on solutions for GDPR compliancy
Oh, go on then, I'll throw another one in for good measure (you're welcome);
Brain Toss is an app I've discovered recently; it means I can record anything, such as a useful piece of information or a reminder, by speaking into my phone. It sends it straight to my email – no pen and paper required!
The Disclaimer
I would suggest trying out different tech to see what works for you – there is so much free tech out there that you really can find out what works and let go of the things that don't!
All of the above are designed to help you save time and provide a more effective service to customers. If the technology is too confusing and therefore you're spending more time trying to work it out than getting results from it, it probably isn't worth it. There's also no point in trying to use all the tech, just because you think it's the 'done' thing to do…it's wise to remember:
"Technology is a useful servant, but a dangerous master" – Christian Lous Lange
Let me know what technology you're using to increase your productivity! If tech isn't quite working out and you need an extra pair of human hands, why not take advantage of my free one hour no obligation consultation and see how I could help organise your time. Call 079580 50856 or email info@jleake-va-services.com
#Technology #Productivity #Apps #Stationery